16 year old saves a man's life with CPR
Megan Ringel, 16, of Wauconda, saves man's life with CPR
Wednesday, September 11, 2013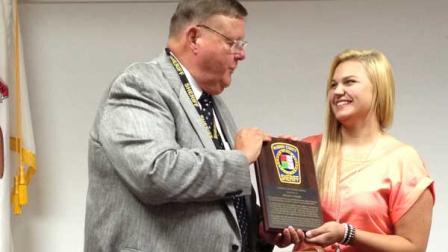 Megan Ringel, 16, received an award from the McHenry County Sheriff after performing CPR on a man who was not breathing.
The victim, a 34-year-old male, was choking in August 2013. Ringel performed ches compressions, repositioned his head to open his airway, and gave the man three rescues breaths before emergency crews could arrive.
"Because of Megan's quick thinking and life saving actions, the victim survived," McHenry County Sheriff's Office said in a release.
Ringel received the Citizen's Lifesaving Award from McHenry County. She was trained in CPR in Girl Scouts, a babysitting class, and again in health class at Wauconda High School. She is the youngest recipient of the Citizen's Lifesaving Award, according to McHenry County officials.